As technology improves we have a greater understanding of fibres, their properties and the products of their manufacture. It has become easier to identify the sustainability of a fibre, its impacts on the environment and whether it can  be considered harmful. When searching for a sustainable fibre there are key things you can look out for; a closed loop production, less water usage, no or natural dyes, renewable sources, minimal waste, recyclability and a low carbon footprint. However, as consumers we don't always have the time to research each fibre! Here at Curobe, we want to demystify the sustainability of fabrics. In this quick guide, we will  be focusing on 'linen'.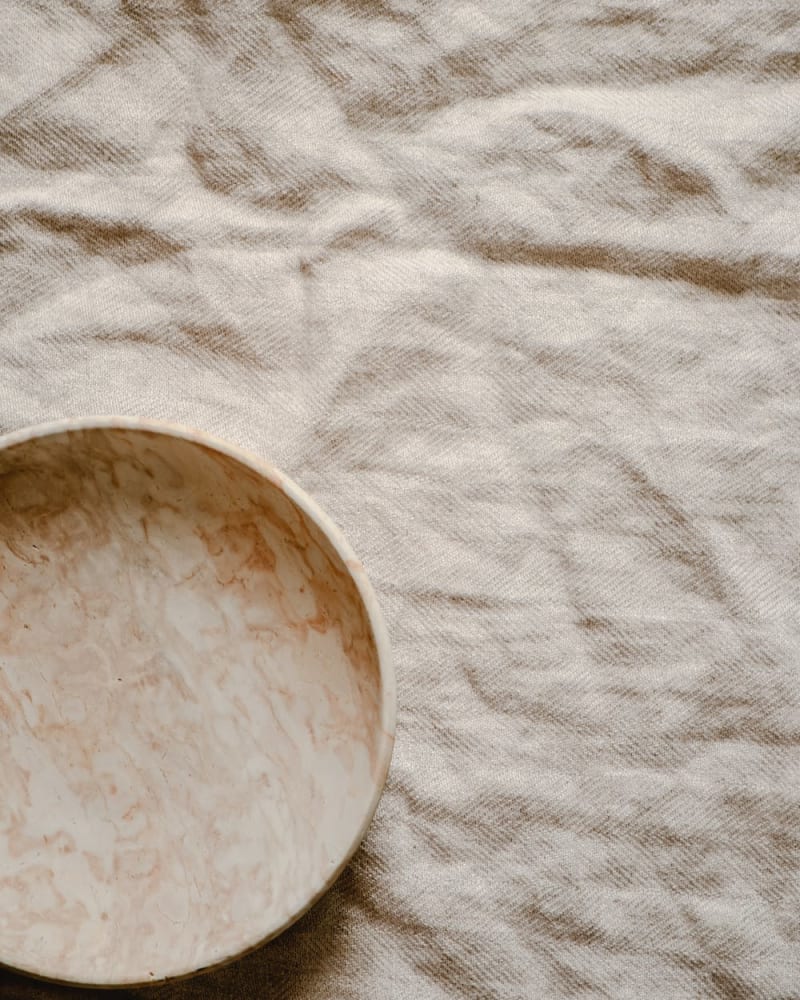 The Manufacturing Process
Linen is one of the longest-produced textiles with evidence that its origins date back to prehistoric times. It can be completely sustainable as it is a natural fibre made from the flax plant. Approximately 100 days after planting the flax plant can be harvested by uprooting. Once dry, the seeds are removed and the stalk of the plant is stripped and combed to collect fibres. They are graded into longer fibres for the finest linen yarns and shorter fibres for coarse yarns before being spun. The spun yarn can then be weaved into a fabric.
Properties
Linen is a strong, light, breathable fabric and is naturally moth resistant. It is also absorbent and dries faster than cotton, helping to reduce heat retention. Due to these characteristics, linen is comfortable to wear in hot weather but remains suitable for winter as it is a temperature-regulating fabric. One of the biggest benefits of linen is its antibacterial properties. However, its lack of elasticity means it can wrinkle easily and may require more ironing.
Environmental Impacts and Benefits 
The flax plant requires less water than the likes of cotton and it can grow without the need for herbicides and pesticides. It is a fast-growing, renewable source that can be produced without harming the environment. As well as this, flax  reduces the amount of CO2 in the atmosphere;2 ½ acres of flax can absorb 3.7 tonnes of CO2. According to the European Confederation of Linen and Hemp (CELC), European flax fibre retains 25,000 tonnes of CO2 every year. Finally, there is no waste in linen production as the whole flax plant can be used for other needs.
Costs and Recyclability
Linen has a higher price point than fabrics such as cotton and this is mainly down to it being more complex and difficult to weave. The work that goes into it is reflected in the price! However, Linen has great longevity and so the price is an investment in a product that is going to last!  
Linen is a recyclable fabric and so can be used as part of a closed loop. Closed loop production or recycling is when the entirety of the product can be reused or repurposed. Recently, London Linen partnered with Marks & Spencers to create a closed loop recycling relationship in which old linen is recycled into bags for life sold in M&S stores. As it is a natural fibre, linen is entirely biodegradable if it is undyed or dyed with natural dye. In the past, natural dyeing used to be the only way to change the colour of a fabric;  synthetics became the quick, easy, versatile replacement in industry. Linen fabric is easy to dye and print if desired and there are several more sustainable alternatives to synthetic dyes including  using food waste such as  vegetables, and fruits.  Natural dyes are biodegradable; therefore, the fabric remains biodegradable. Alternative dyes which are better but not perfect are Azo-free dyes, which are free of nitrogen-based compounds that release aromatic amines and dyes free from heavy metals. There have also been developments in air dyeing methods that reduce the amount of water consumption to essentially nothing. However, these dyes are not yet biodegradable. Linen is at its most sustainable when a completely natural dye is used!
Linen is an excellent example of a sustainable fibre alternative.  The properties of the fabric are perfect for hot weather but can also be worn in the winter meaning you can make the most of your garment!  It has the potential to have very little environmental impact and can even be a benefit by holding CO2 from the atmosphere. It can be recycled and reworked so that it doesn't lose it's value as a fabric. Overall, it's a pretty amazing fabric that we personally don't think is used enough.
There are so many sustainable alternatives available due to the evolution of modern materials and many more will be created as technology improves and our understanding advances. Though sustainable options are generally more expensive, it is important to invest in these pieces as they are not only better for the environment, but they are better quality, long-lasting, and promoting a better future.
Like what you just read? Share it on: